Yuan Soap Wild Mugwort Personal Care Set
(Suitable for sensitive skin)
Bundle Set
Wild Mugwort Soap 100g
Swertia shampoo 當藥洗頭水 Sensitive, Dry hair &scalp 50ml

Yuan Wild Mugwort Soap - For problem skin, body odour
Pungent and dark, Wild Mugwort Soap is our bestseller product which many either love or hate the smell. Use it toIrelieve skin problems like eczema, reduce itch from ringworm, body acne, atopic dermatitis and fungal infections. It is also great for those with strong body odour.
Ingredients:Water, Olea Europaea (Olive) Fruit Oil, Artemisia Vulgaris Extract, Sodium Hydroxide, Camellia Sinensis Leaf Extract, Pogostemon Cablin Oil, Artemisia Absinthium Extract, Cymbopogon Schoenanthus Oil, Verbena Officinalis Leaf Extract
阿原艾草皂-經典配方淨化肌膚(問題肌膚/體味困擾)
潔淨清爽,肌膚健康的種種需求, 百草為師,游刃有餘。 艾草生命力堅強,並具有特殊香氣, 入皂可以清潔肌膚,淨化體味, 提升肌膚在不潔環境中的自我保護能力
许多应用植物专家已研究证明艾草油可对付湿疹、癣痒。 艾草皂是阿原肥皂的销售冠军。 前胸、后背、脸颊容易有粉刺、异位性皮肤炎、湿疹的人来洗都不会刺激,体味重的人更适合。
Wild Mugwort Shampoo 艾草洗頭水 (Sensitive Oily Scalp, Dry Hair) 50ml
Wild Mugwort Shampoo is perfect for normal, oil to sensitive scalp/skin.
Your hair will feel soft and bouncy after using the shampoo as it has an amino acids (protein).
Ingredients: Water, Artemisia Vulgaris Extract, Disodium Laureth Sulfosuccinate, TEA-Lauroyl Glutamate, Cocamidopropyl Betaine, Oenocarpus Bataua Fruit Oil, Tocopheryl Acetate, Lonicera Japonica (Honeysuckle) Flower Extract, Taraxacum Officinale (Dandelion) Extract, Viola Yedoensis Extract, Chrysanthemum Sinense Flower Extract, Semiaqvilegia Adoxoides Root Extract, Cymbopogon Schoenanthus Oil, Pogostemon Cablin Leaf Oil,Polyquaternium-10,PEG-7 Glyceryl Cocoate,Octoxynol-11,Polysorbate 20,Phenoxyethanol
艾草洗頭水特色:
添加艾草、金銀花兩種修護成份,給予敏感油性頭皮深層的修護與保養。巴套阿酒實棕果油可改善頭皮油脂分泌不均所造成的不 適,提生頭皮在環境中的保護能力
主 成 分:艾草萃取液,巴套阿酒實棕果油、維他命E、金銀 花、蒲公英、紫花地丁、菊花、天葵子根(萃取液)、廣藿香、檸檬香茅(精油)
用 途:洗淨頭皮及髮絲 適用對象:敏感性頭皮
wertia Shampoo
Suitable For: Dry Hair and Sensitive Scalp
The nutritional ingredients consist of natural herbs such as: Swertia, Ginseng, Matrine and Lamiaceae. These are compounded with the unique Glycyrrhizin, which enhances the hair metabolism and supplies sufficient nutrients to the scalp. For every wash, herbs such as Vertiver and Blanco will help refresh and soothe your scalp while maintaining the rigidity and flexibility of your hair, restoring luster and sheen.
Directions:
1. Rinse through scalp and hair thoroughly to clear dirt and grimes.
Avoid use of hot water as scalp might be over stimulated which leads to possible scalp redness and itchiness
2. Pour sufficient amount of shampoo onto palms accordingly. Lather well with and slowly work into scalp from the front to the edge with a gentle massage (3-5 minutes), then rinse.

3. For better result, repeat step 2 and leave the shampoo on for 1-2 minutes to allow better absorption of nutrients.
當藥洗頭水 乾性頭皮髮質
以草本植物當藥、人參、苦參與延命草等特殊益髮成分,能增加頭皮活力、養潤髮絲,使頭皮獲得充分的養分供給。岩蘭草、廣藿香在每次洗髮時,賦予頭皮舒爽及平緩的感覺,讓髮絲維持強韌的彈性,呈現秀麗光澤。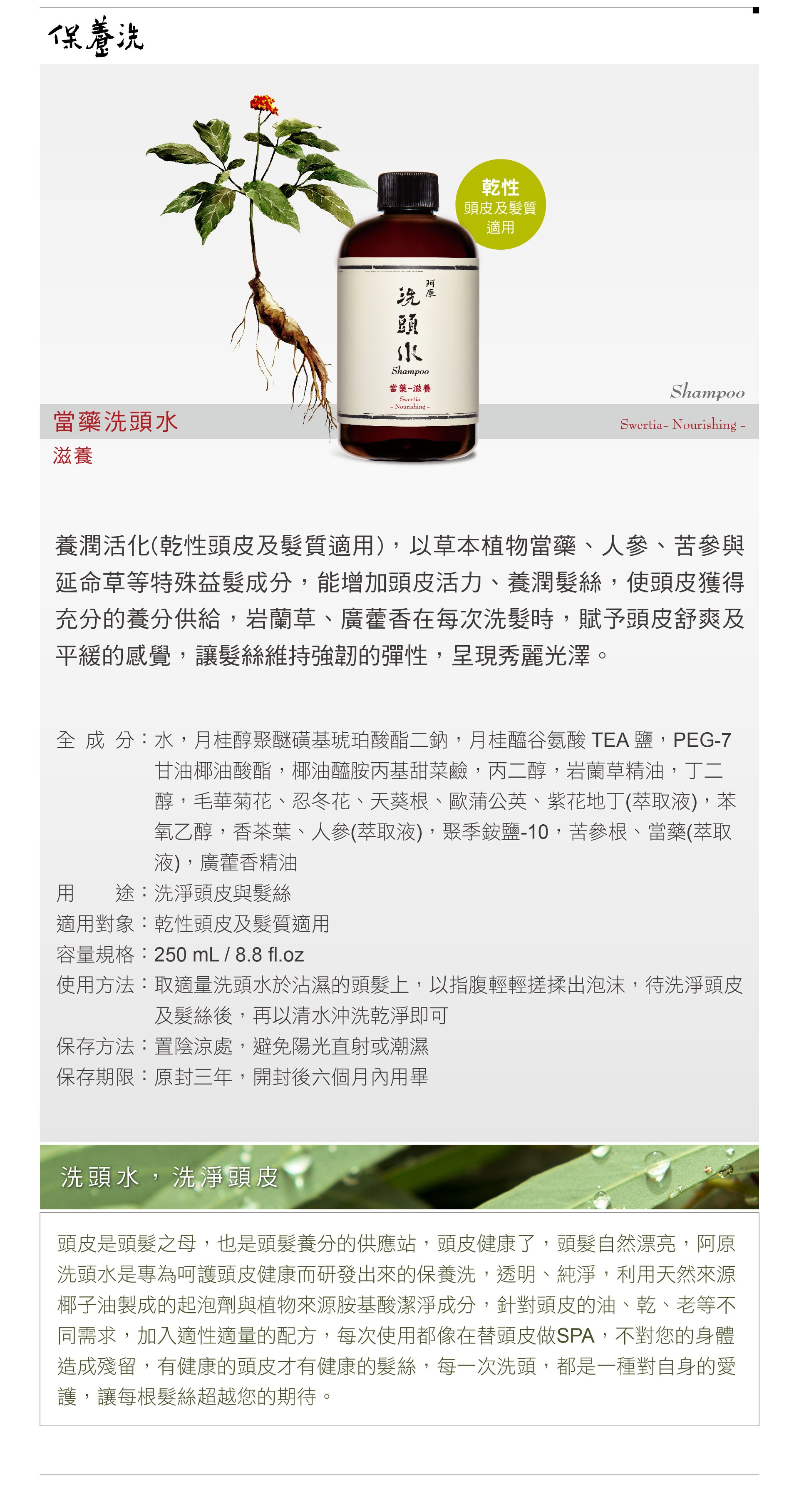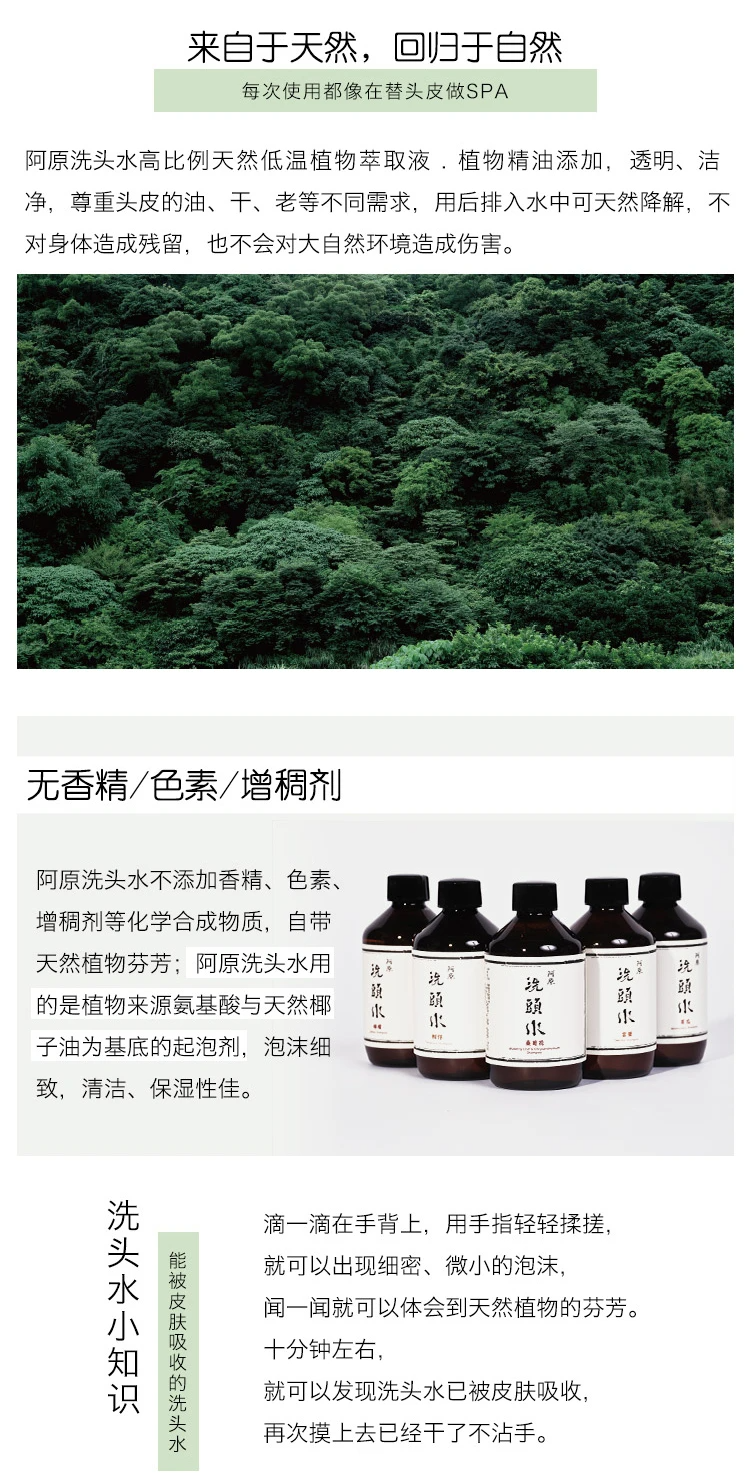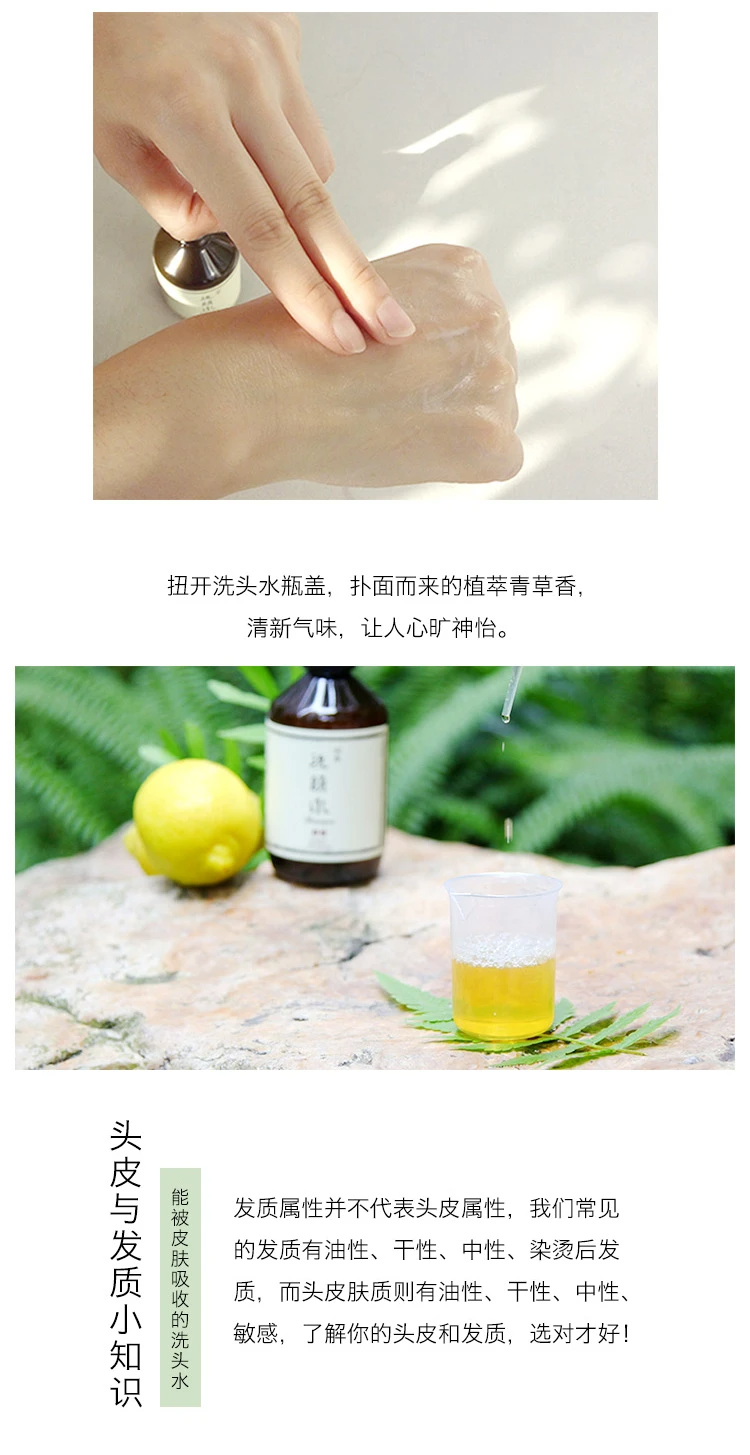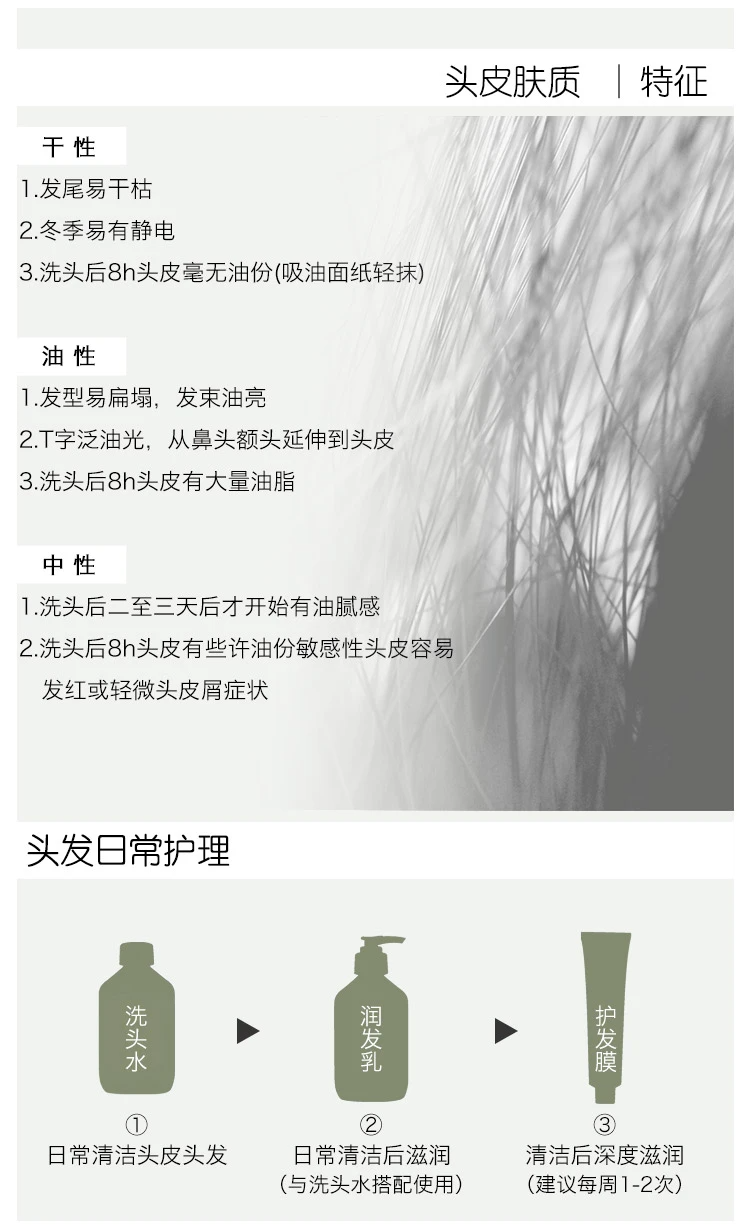 ---
Collections: 10.10, 112020, 20% DISCOUNT, All Products, BLACK FRIDAY SALE, full sized hair care promo, Shampoo, Top 10 Best Sellers, Yuan Hair Care Series
---
Related Items
Customer comments
| Author/Date | Rating | Comment |
| --- | --- | --- |