Oat Soap
燕麥皂 (抗敏补水)
Yuan Oat Soap - Herbs and Essential oil free.

產品名稱:燕麥皂
全成分:橄欖油,水,燕麥萃取液,向日葵籽油,氫氧化鈉
用 法:於手上加水搓揉起泡,用於全身清潔
用 途:清潔
內容物淨重:100g
保存期限:二年
保存方法:置陰涼處,避免陽光直射或潮濕
注意事項:本產品為外部清潔使用,請勿接觸眼睛及黏膜,若有不適請以大量清水沖洗
製造廠名稱:阿原工作室股份有限公司淡水工廠
廠 址:新北市淡水區中正東路一段3巷25號2樓
工廠字號:65005142
產 地:台灣
Especially beneficial for those who have extremely sensitive skin or skin that is oily underneath but dry on the surface. With no essential oil, no scent and nourishing buckwheat, this is the mildest soap within the Yuan soap range. Suitable for babies, children, women during and after their pregnancy.
Ingredients: Olea Europaea (Olive) Fruit Oil, Water, Avena Sativa (Oat) Kernel Extract, Helianthus Annuus (Sunflower) Seed Oil
阿原燕麦皂- -純淨呵護(嬰幼兒/乾敏性)
對外界環境有那麼多敏感與不適,
溫和滋養的種子可以為伴。
無精油添加,純穀類的自然修護,
高級油脂滋潤,對於嬌嫩的肌膚,
給予最簡約而純淨的呵護。
Bloggers' Soaps Reviews
"All the soaps I've tried under Yuan Soap lathered very well. In terms of lasting power, I think Yuan Soap fare averagely which is actually a good thing. One thing I learnt during my DIY skin care workshop is, it may not be a good thing if your soap last forever because the soap base used may not be all that natural" ...Sesame, vivawoman.net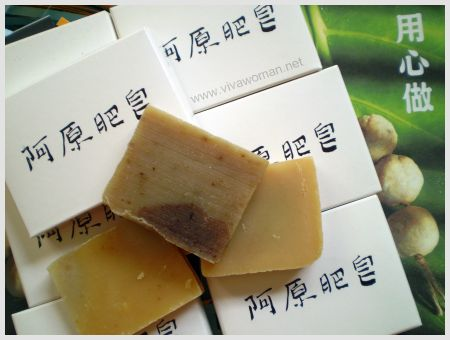 Customer comments
| Author/Date | Rating | Comment |
| --- | --- | --- |