Korea Aloe Vera Soothing Gel 300g X 3


Moisturizes weary skin with certified organic ingredients, the new Aloe Vera Moisture Real Soothing Gel.
BODY PHREN ALOEVERA MOISTURE REAL Soothing gel 150g
Soothe skins by applying frequently whenever you feel dryness and sensitivity. Moistures up skin and keeping the temperature down.
– Apply anywhere you like, your face, hair or even body.
– Everyone can use, from kids to adults.
– 98% California Organic Aloe Vera base extract
– Free from 6 skin-irritating elements.
– Free from 6 elements
Paraben-Free
Colouring-Free
Silicon-Free
Mineral Oil-Free
Animal Oil-Free
Benzophenone-Free
Face Aloe gel texture makes skin fatigued due to external environment comfortable and moist by providing
fresh moisture with excellent skin-soothing effect
Body & Hand Making dry skin of arm, leg, elbow, knee and hand flexible and healthy by filling up with moisture
Hair Making hair glossy and soft one by one by providing help in caring rough dryness & split ends
Instructions Take out a suitable amount of contents and spread softly on dry part of split ends of hair, face and body to be absorbed.
What is Aloe Vera? Let's read some facts!
Aloe is considered the oldest medicinal herb in history which was used as folk remedy.
It is said Alexander the Great cultivated it for his soldiers to stay healthy on their conquests.
Cleopatra from Egypt also used aloe to maintain her beautiful skin. Marco Polo's Travel of Marco Polo writes
that the Chinese used aloe to treat stomach disorders, abscess and skin ailments.
This shows that aloe has been widely used for improving health for centuries.
In Korean medicine, aloe is called "Aloe Barbadensis". According to Dongeuibogam (Eastern Medicinal Manual)
it is well known to have a cooling texture and bitter in taste.
It is commonly used to treat parasites, itch, ringworms as well as fever.
You can use Aloe in many different ways:
1) As moisture pack to sooth your weary skin.
2) Damaged Hair Treatment.
3) As aftershave after shaving.
4) As Eye packs to relax your eyebags.
5) Water shine your makeup.
6) Moistures and softens your nail cuticles.
7) Soothing pack after undergoing cosmetic procedures.
8) Soothing gel for irritated skin.
9) Pore pack for orange peel-like pores.
Authentication Certificate for Use of Organic Aloe from Clean Area California.
California Organic Aloe which is excellent in skin soothing effect.
新推出Aloe Vera Moisture Real Soothing Gel,润肤霜拥有机认证,能够滋润您的疲惫肌肤。
经常使用能够舒缓您的敏感或干燥肌肤,能够紧急给予水分的补给,镇静肌肤。
~可用在身体任何部位,(头发。脸部到身体各部位如胳膊、腿、肘、膝和手)
~每个人都可以使用,(小孩/大人)
~含有98%加州有机芦荟萃取物
~无六种肌肤刺激性元素
*无防腐剂,*无色素,*无硅树脂,*无矿物油,*无动物油脂,*无苯甲酮
芦荟多功能晒后修复镇静用法:
1.肌肤的紧急水分补给
2.护理受损的头发
3.剃须可镇静,可在剃须部位使用此产品,舒缓剃须对皮肤产生的刺激。
4.当眼膜舒缓眼肿
5.化妆前保湿护理
6.滋润和软化指甲角质层
7.整形后的舒缓护理
8.舒缓敏感肌肤
9.橙皮状毛孔护理
选用经过认证的有加利福尼机芦荟,具有卓越的舒缓效果。
使用方法:取出适量的凝霜,涂抹在干燥的脸部、身体或受损的头发上。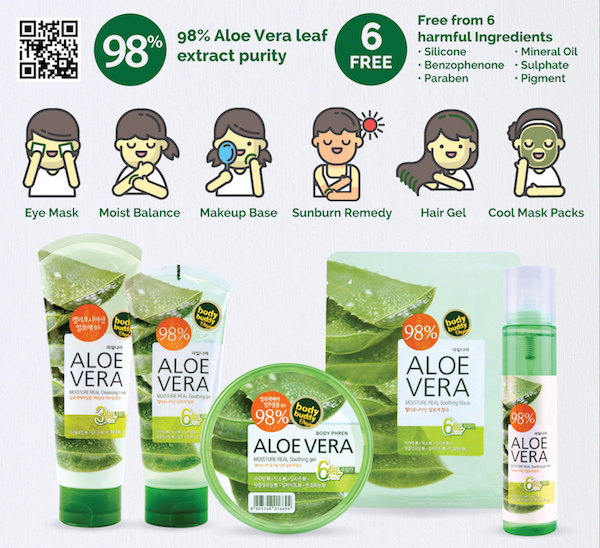 Customer comments
| Author/Date | Rating | Comment |
| --- | --- | --- |